This surgical intervention restores and revitalizes the neck's skin, enhancing your overall appearance with a more youthful and appealing look.
Achieve a slimmer, more contoured neck
A certified plastic surgeon with years of experience, Dr. Courtney conducts neck lift procedures at his Houston, TX practice. Utilizing techniques refined through microsurgical training, he leaves no stone unturned in achieving the best outcomes possible for his patients. Renowned for his compassionate approach, friendly demeanor, and attention to detail, Dr. Courtney consistently earns praise from those he serves.
To learn more about neck lift surgery in Houston, TX, reach out today to arrange a confidential consultation with Dr. Courtney.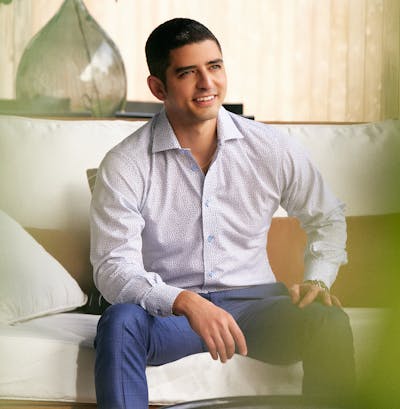 What Is A Deep Neck Lift?
A deep neck lift is a surgical technique meticulously crafted to attain a polished and contoured aesthetic. Over time, the aging process results in pronounced skin and muscle laxity, submental fat deposits, and wrinkles, all contributing to changes in the neck's appearance. With a deep neck lift in Houston, Dr. Courtney skillfully eliminates excess tissue, addresses fat deposits, and repositions the skin, resulting in a rejuvenated and naturally youthful-looking neck.
Is A Neck Lift Right For Me?
While we seek to assist all individuals in achieving their aesthetic aspirations through a deep neck lift, prioritizing patient safety remains our number one priority. If you fulfill the following crucial criteria, you are likely an eligible candidate and are encouraged to promptly arrange a private consultation with Dr. Courtney:
Your overall health is good
You hold practical understanding of the scope and potential outcomes of a deep neck lift
Visible signs of aging are evident, and a neck lift would notably enhance your appearance
Lax skin, fat, or muscle tissue causing emotional distress can be addressed
You refrain from excessive smoking or drinking

If you meet these criteria, we strongly recommend scheduling a consultation with Dr. Courtney and our team. This consultation will address all of your questions and enable you to schedule your neck lift procedure. Additionally, we provide a variety of non-surgical alternatives that could potentially suit your needs.
What Age Is Best For A Deep Neck Lift?
The age limitations for a Deep Neck Lift are often influenced by a combination of individual factors and the overall goals of the procedure. While there isn't a strict age cutoff, candidates typically range from their mid-40s to 70s. Those in their mid-40s might consider this procedure to address early signs of neck aging, such as mild sagging or excess fat. As the aging process advances, individuals in their 50s and beyond might opt for a Deep Neck Lift to tackle more pronounced sagging, muscle laxity, and significant neck fat accumulation. However, the most important criterion remains the patient's overall health and motivations for seeking the procedure. A thorough consultation with a qualified surgeon is essential to determine if a Deep Neck Lift in Houston aligns with their aesthetic goals and medical considerations.
Deep Neck Lift: The Procedure
Anesthesia
Given that a deep neck lift is a surgical procedure with significant invasiveness, our board-certified anesthesiologist will diligently ensure proper sedation for you before commencing the surgery.
Creating the incision
The size of the incisions will be determined by the scope of the procedure, with Dr. Courtney meticulously positioning them to minimize visible scarring. These incisions are usually located under the chin and within the hairline. Men usually have a single incision under the chin.
Surgery
Dr. Courtney will skillfully eliminate or shape excess fat and skin, adjusting skin positioning as necessary. This is the precise juncture where Dr. Courtney's mastery of neck surgery techniques is prominently displayed.
Closing the incision
Upon completing the procedure, he will employ sophisticated methods to close the incisions, aiming to minimize scarring. A compression bandage will be delicately wrapped around your neck and chin, followed by a period of recovery lasting a few hours.
Your Consultation With Dr. Courtney
During your initial consultation with Dr. Courtney, you will experience a private, one-on-one session where you can freely express all of your concerns and questions. Dr. Courtney's unwavering focus is on you, evaluating your aesthetic aspirations and current physical state to craft a precise surgical strategy. With a commitment to your ease and zero pressure, Dr. Courtney strives to comprehend your desires and tailor a plan that suits your unique requirements. Your comfort and individual needs take precedence throughout the process.
After grasping your desired outcomes, Dr. Courtney employs the advanced Vectra XT 3D Imaging system to offer you a tangible preview of the potential results achievable through a deep neck lift procedure.
Your Deep Neck Lift Results
Upon removing the bandage, patients will be able to see the initial results of the procedure, but the full effects will develop gradually as swelling and bruising diminish. Dr. Courtney will furnish you with comprehensive post-operative guidelines to facilitate a quick and comfortable healing process, optimizing the final results.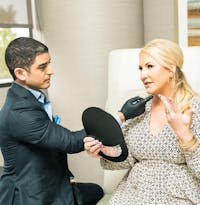 Why Choose Dr. Courtney?
When contemplating a deep neck lift in Houston, selecting the right surgeon is of the utmost importance. The expertise, precision, and dedication of your surgeon can be the distinction between mediocre outcomes and the exceptional results that you wish to achieve.
Dr. Courtney has undergone fellowship training in microsurgery and received guidance from distinguished professionals at The Texas Medical Center in Houston. Patients who are interested in discovering the uplifting and transformative benefits of a neck lift can rely on his expert skills and attention to detail. Contact our office today to set up a private consultation and learn more.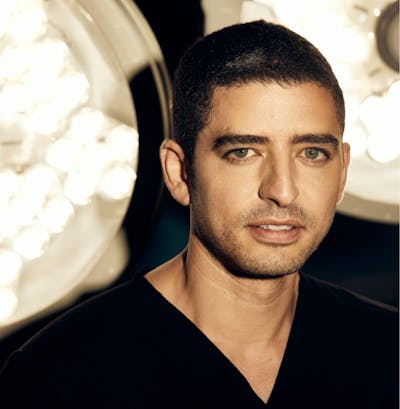 How is a deep neck lift different from a traditional neck lift?
A deep neck lift involves more comprehensive rejuvenation, targeting deeper structures of the neck for a more sculpted and youthful outcome. Traditional neck lifts primarily focus on addressing excess skin and some muscle tightening.
Is the procedure performed under anesthesia?
Yes, a deep neck lift is performed under anesthesia to ensure your comfort and safety throughout the surgery..
Will there be visible scarring after the procedure?
Dr. Courtney places incisions strategically to minimize visible scarring. Incision sizes and locations depend on the extent of the procedure and individual anatomy.
Can I combine a deep neck lift with other procedures?
Yes, you can combine a deep neck lift with other procedures such as a facelift, brow lift, or eyelid lift. Combining procedures can offer comprehensive rejuvenation and reduce overall recovery time.
What makes Dr. Courtney an expert in deep neck lift surgery?
Dr. Courtney is a board-certified plastic surgeon with a focus on microsurgery. His fellowship training and mentorship by renowned surgeons at The Texas Medical Center in Houston attest to his expertise in achieving transformative results.
How do I get started with a deep neck lift consultation?
To explore the possibilities of a deep neck lift and discuss your aesthetic goals, contact our team at (713) 489-1630 to schedule a private consultation with Dr. Courtney. We're here to address your questions and guide you through the process.