Evelyn
Evelyn is the first voice you hear when you reach out to our office in Houston. She guides you through every step of your journey to beauty and confidence. With over 21 years of experience in plastic surgery, she is an essential member of our team.
Evelyn keeps Dr. Courtney's schedule running smoothly and works with every patient from the initial consultation through to a full recovery. Evelyn loves the bond established with each patient and takes all the time they need to address questions and concerns. She wants to ensure each person feels completely comfortable and confident.
On a personal note…
In her spare time, Evelyn treasures the time she spends with her family and enjoys travel. She is a proud mother of two daughters and is married to her high school sweetheart. Evelyn will listen closely to your concerns and ensure you are completely comfortable at every phase of the process. She works closely with Dr. Courtney to provide you a warm, caring experience and provide you with all the information and guidance you need to be comfortable with your surgical journey.
What she loves most is the opportunity her work offers her to meet new people and seeing the joy their surgical transformation brings to their confidence and quality of life.
Amy Beth
Amy Beth is our talented Marketing Manager. She helps coordinate our office events and oversees all social media marketing and our website design initiatives. With a creative eye and a natural love for aesthetics. Her warmth, personality, and professional skills have made her a valued member of our experienced team.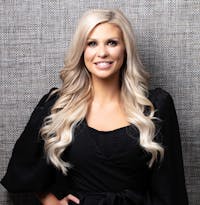 Southern charm and creativity
Amy Beth enjoys capturing and sharing candid photos to give you a glimpse into our daily lives. Her southern charm comes naturally – and she was formerly crowned "Miss Congeniality" in Mississippi. She moved to Texas with her husband in 2012 and is a devoted mother who loves spending time with their three little ones. Amy Beth first discovered Dr. Courtney as a patient, and her experience led her to choose to become part of our team.
She feels great personal joy watching patients transform and the incredible changes they experience after a procedure. She captures images of the transformation to beauty with patients in preoperative and postoperative visits and is known for her warmth, friendly personality, and dedication to patient success, and the art of aesthetic transformation.
Elsa
Elsa Casares is a Medical Assistant at The Aesthetic Center for Plastic Surgery where she works side by side with Dr. Courntey and his team. Providing patient care is her number one responsibility and strives to make each patient feel welcomed. With over 20 years of experience, Elsa is well versed in patient care and assists in helping Dr. Courntey in many aspects including surgical education, follow-ups, homecare health visits, and surgical minors.
Elsa is a mother to a wonderful son and loves spending time with family. After losing her husband in 2015 to Adult Myeloid Leukemia, Elsa cherishes each moment she's able to make memories with the ones she loves. Her caring and compassionate nature are felt from the first moment you meet her and continues to be felt throughout your journey with Dr. Courtney.